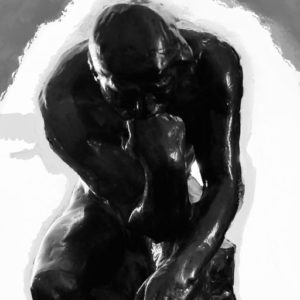 Inner City Blues
Black folks, it is time to face reality and speak the truth. We have indeed faced hundreds of years of racism and oppression in America, and any atrocity that the mind can imagine has been committed against us. That is a given, and the damage of those actions and consequences remain evident today, but we have proven to be resilient.
There can be no denying that there are many reasons for the Black condition but are there any longer any excuses? Let me say we have a right to tell the truth about others, but we also have an obligation, to tell the truth about ourselves to ourselves to improve our condition. We may not want to hear it, but we should hear it from ourselves truthfully.
Believe in what you see more than what you are told because you can be shown better than you can be told. Actions always speak louder than words, so what is understood need not be spoken but observed. If we do not like the truth, we should make it a lie by changing the reality, not the narrative. Then, they can't dispute the obvious.
There has been no redress for the slavery debt, nor is it likely to be paid to our satisfaction or the extent of the damage done. Yet, it is no secret in our inner circles what we agonize over the most in our communities, and it is not the police, racism, or the white man.
In some of our neighborhoods, we barely see the police or interact with them. If there are whites in our community, they are a scarce minority, if at all. Racism has always tipped the scales, so nothing new or nothing we can't or haven't overcome.
We are not fooling those outside our circle because it is plain to see and increasingly harder to conceal. That is why detractors can keep reminding us and deflecting from their actions that hurt us because sometimes we hurt ourselves more. So we give them something to talk about.
Could we be wrong more so than they are, just as two wrongs don't make a right, but it doesn't make us even either? In this case, it makes us odd? Odd to harm ourselves in a struggle against harm.
Oddly enough, how can we, and why are we as equally wrong as the forces we complain and protest about, asking them for our equality and safety? What do we demand of ourselves in our predominately black neighborhoods where we practice a different form of cultural racism and genocide?
Why is it easier to point the finger at others as the source of our problems in OUR communities where they have a minor presence? We can not pretend to have submitted our consciousness and condition to their influence when they are not present unless we admit to the frailty of our minds to be so thoroughly conditioned to perform atrocities against ourselves for them.
We have to keep it, one thousand family; it is us doing it to us. Whatever the number of unarmed Blacks killed by the police is a crime and tragedy, but how many more would be at the dinner table if we were not killing our own at an alarming rate in these streets?
How many innocent children would continue to play? How many families have been generationally damaged from the drug game? Why is it unsafe in our communities from those who prey on those who look like them, never leaving the neighborhood to commit a crime but would claim black lives matter to them?
Why are our black women disrespected by us and treated in ways anything but queenly? Okay, I hear you, playboy, and that may be true, but what about the man in the mirror or regard for your mother, sister, or daughter?
Is it proper for Black women to project images appropriating other cultural beauty standards to their impressionable daughters, diminishing the empowerment and dignity of their child's blackness or self-love?
Is our own self-esteem and character, which reflects our integrity and principles by our conduct, more critical than fronting for others? Are we that fragile in our thirst for validation? How could our conduct, discipline, and ambition have a positive impact on our children? What about for other races to be less resistant to our humanity?
We have proven ourselves to be a resilient people but not as collectively progressive as we could have been. We cannot normalize or excuse the behavior that holds us stagnant as others surpass our condition while holding us in contempt. We have worked hard, but now we must work smarter to produce a reality that aligns with our expectations and demands.
Instead of focusing on the negative, not within our control, we must focus on the negative within our control. We cannot cry our bed is hard if we contribute to making it that way. It is an emotional display that restricts meaningful gain except for an outburst of feelings. It is time to grind if harvest is to be upon us. The grind will take extra effort, but the harvest is abundant by using the principle of addition by subtraction and innovative substitution of traditional education and rejecting self-limiting socialization.
We will have less of a need for others if we take care of our business first. We can take what is ours when we can give it to ourselves. It reminds me of the Godfather of Soul, James Brown, who sang, "I don't want nobody to give me nothing open up the door, and I'll get it myself."
Enough doors are open with the ability to open more doors for our harvest, but we must position ourselves advantageously. A change in our mentality and specific education outside of the structured diagram of social engineering must occur.
Many of us know the rules of the streets and how to survive if not thrive, but it is time to switch the game up from the nonsense some have told ourselves that this is the only way available to us. There are better ways, but it will require something more of us. We can't convince ourselves that it is economics-related because it is other ways of making coin that doesn't hurt the community in which we live. It is not always the economics but the mentality and lack of applied ingenuity towards the obstacle to economics.
Life will present challenges, but we should avoid the damage we do to ourselves, our image, and our communities. Unfortunately, some aspects of Black culture have taken on a detrimental mentality that significantly contributes to our collective condition. We should not take negative labels or harmful behaviors and embrace them as a positive appropriation of endearment or conduct.
What we immerse ourselves in becomes our reality and desensitizes us from the cause and effect of its impact. Unfortunately, the nature of some of our music and television choices from the earliest age conditions us with subliminal indoctrinations that form our perspectives and behaviors to what we accept, conform to, and aspire to become.
We must be diligent about what we expose our children to, primarily if it promotes negative connotations described as entertainment. We must then ask ourselves, who benefits from our mimicking these actions and behaviors? Can we expect to be anything other than dysfunctional when the stimulus that we bombard ourselves with is tainted by violence and indifference as regular primary programming? Instead, we have tricked ourselves into devouring it and blame others for our appetite.
Just weigh the benefit against the detriment and compare it to what you observe in the community. Black man, we must reacquaint ourselves with what it means to be a protector, provider, and example for our families and communities by being engaged in providing veteran leadership and knowledge-creating stability. Black man, it is time to lead the charge unflinchingly. Black man, let's end this now by changing now, so they don't pay a costlier price later.
Our ego or being a tough guy or a "real one" can not displace our obligation to our family or contribution to our community with an allegiance to a broken spirit of weakness disguised as bravado while riding for despair and destruction, not respect or progress. It takes effort to build and larceny to destroy, but whose future are we robbing if not us and ours?
I asked many questions, but maybe they were not questions but solutions or concepts that may lead to solutions. I cannot be ashamed to say that the generation of the eighties and nineties became distracted after significant gains were made in the sixties and seventies against stern opposition.
I say that to say this that the fruit today was from seeds planted then, just as tomorrow's fruit will be the seeds planted today. We must regain our compass and set a course of self-determination and self-realization that requires no one's consent, just our grind.
We can't wait on reparations or equality. You cannot be made to feel a way you refuse. To seek personal equality indicates you personally feel inferior and collective systematic equality in the form of institutional fairness will take far too long waiting for grace to be granted. We grant ourselves equality by the strength of our perspective and integrity. We can not overcome or operate from a position of weakness where power is granted.
It is never good when you have to ask from a position of weakness. With that said, let us pay ourselves reparations first by our conduct and progression, creating an atmosphere where nothing less than our respect and equality will be expected from others or accepted by us.
We need to respect our lives and stop the killings of each other, but call it some soft sucker shit to throw a rock and hide your hand. If it is that important to blast, put your pride on the line and throw down or better yet, let it ride if it causes more problems than it solves. The cycle must be broken by being avoided.
More of our people need to make it home and not just from the hands of the police. Time to break the chains that enslave our minds to move beyond conflict or protest to elevation and progression. Then as James Brown said, we too can "say it loud" and indeed be black and proud.
Progression is a transition of a perception that becomes an obsession manifesting a realization. Reasons are why you do something excuses are why you do not. Make no excuses allowed be our determination not to harm our progression. Let the healing begin within while the solution resides outside the pitfalls of social engineering.
Much love to my brother C.T. (Gery Curl) from East St. Louis. He always spoke of being resilient and resourceful.
Thurston K. Atlas
Creating A Buzz