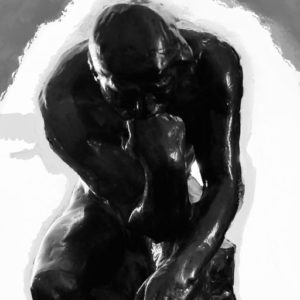 Termination Restrained
We are witnessing life imitating art. Remember the Terminator sequel, a cyborg destroyer, was sent back in time to protect the catalyst for change in the future by defending the movement from being destroyed in its infancy and development.
So likewise, freedom of speech and open exchange of ideas has become John Connor, the endangered crusader in need of protection with future survival hanging in the balance. Never mind, sticks and stones make break your bones, now freedom of speech, exchange of dissenting ideas, and exercise of liberties will hurt you.
The advancement of HUMANITY has and will always depend on an exchange of ideas and perspectives, with the ability to freely and theoretically discuss them. This dialogue must be expressed, exchanged, or challenged to become validated.
It can not be imposed by fear or censorship; otherwise, it becomes oppressive, suffocating logical reasoning. As a result, the fragility of thoughts has regressed into hearing no evil and thinking no evil, not allowing for the concept of evil to be a moral judgment, not logical reasoning. Changing the judgment changes the moral code or conclusion and expectations of adherence. It is entirely subjective and prone to fluctuate by interpreter and interpretation.
The fragility to not tolerate voicing our differences of perspectives or the right to choose them most likely violates the circumstances and assertions regarding the process and mechanism used to establish them. The process is the supreme principle of establishing, accepting, and maintaining these concepts and resulting liberties. It is to convince by persuasion, not the denial of expression.
At the initiation of this republic, it was deemed essential that freedom of religion, speech, and the press was the cornerstone and foundational concept reflected in and by the Bill of Rights. So vital that it is the first amendment established. Notwithstanding its imperfect observation and practice at times, it has repeatedly overcome the fragility of mind and spirit by being a statutory aspiration.
This is the genesis of all distinctions, designations, and categorizations of every demographic of population or integration of acceptance. The accommodation of freedom of speech has led to and will lead to any transformational variations of principle, tolerance, or thought.
The bitter must sometimes be taken with the sweet with allowances tolerated. Just as it has aided in converting benefits favorable to you, the process must also lend itself to benefits complimentary to another.
Its suppression prevents future progress and undermines past ones. From ancient times philosophers and stoics recognized the importance of free exchange of ideas and philosophies even at the risk of being offended.
They suggest that the exchange is more important than an insulting delivery. The delivery reflects the deliverer, not the message. The message can be evaluated and separated upon its merit from the messenger's rudeness.
So the message is of primary importance, not a feeling of insult or indignation. Often these emotional sentiments are more telling on the offended than the offender. It might be a matter of perception or self-image, not of intent.
There are actual instances of disrespect and insult in the conveyance of a message that should be rebuked. However, devoid of this or an overt affront conveyed, the perspective cannot be offensive because it requires an intellectual evaluation, not an emotional response.
The counterattack to any insult is the same weapon chosen to deliver it, in this case, a verbal response if needed. Surely the sting of a venomous comment can be met with one exceedingly cruel, but this descends into an exchange of insults, not dialogue.
Is it a battle of wits or insults? None should be taken if no insult was intended, even if the perspective is repugnant when willingly engaged. The ability to absorb, decipher, and navigate conversations and ideas resists the lure of ignorant or emotional engagement.
The prevailing cancel culture to force others to denounce at your insistence or for your sensitivities is counter to freedom of speech and choice. It is further an individual decision even if collectively engaged. It should be by voluntary means of personal sensibilities being offended or supported.
The sum of those offended then constitutes a collective. If force is the instrument of choice, then it should not be the shield as well. These should be simple instances where you are not in agreement and have the discretion not to support or participate while not forcing others' allegiance.
The cognitive dissonance of the acceptability and dissemination of contrary ideas that reflects inconsistencies defeat their foundational merit by default for lack of continuity and subjective application. It is outrageous to force acceptability of your position on others who may disagree but then bellyache about accepting theirs being forced upon you.
Suppose an exchange or perspective has no constructive control or impending damage. What power does it really possess other than the power you surrender. Why make it more than the musings of a self-declaring fool?
Conversely, succumbing to them gives the appearance of resemblance and validation. Either you stand on your spot with conviction, entering the fray boldly or wither under the first cloud of dissension. Still, either way, you declare your position, not on your idea but your right to the freedom of it.
Make your freedom of speech something that must be wrestled from you, not surrendered for lack of fortitude. This is the ying and yang of discretion, both using it or suppressing it. Either way, it bears consequences, and you must make a decision which way is preferable. Whining is not allowed for either using it, refusing to use it, or others refusing or using theirs. Whatever benefit or consequences are yours or theirs individually, only becoming collectively by accumulation.
Applying the metaphysical philosophy of Plato, freedom of speech is self-evident beyond questioning but becomes meaningless if restricted and untested. Freedom of expression is paramount to understanding and being understood. It facilitates persuasion as a concept of certitude, revealing its validity beyond emotional or sensory perceptions measured by the quality of its intellectual proposition.
Any emotional meltdown is an admission to an incapacity to function outside your emotions when triggered. A rejection of responding to the message as thought but instead anger or rage facilitates stagnation discouraging resolution.
Imagine being in a relationship where there are severe limitations on the extent of disputed discussions, where silencing of expression is required. The natural inclination would be to wonder why disagreement results in submitting as if confronted by a standard-bearer above reproach and reasoning. It invites more dysfunction than to evaluate it and discard it as insignificant or feeble.
Suppression exaggerates resistance to resolution. Regulation reveals your limitation on your thought process as a governing element to prevent challenge or invalidation. There is a direct correlation between the measure and extent of our emotions and understanding. It not only limits us but gives us expectations of conformity from others because you think or did so, insisting others should too.
The recent controversies of Dave Chappelle, Kyrie Irving, abortion rights, sexual identifications, and violence come to mind. These contemporary issues reflect the dichotomy of freedom of speech, freedom to exercise well-established liberties, restrictions of choices by someone else's determination, and unfiltered behavioral influences.
Each has its entrenched supporters and detractors, which I will not challenge. However, I will examine the discrepancies of contention pertaining to the restriction of freedoms guaranteed in the Bill of Rights and quite frankly sanctioned by humanity.
Let's start with the premise that everyone has one, not two, not yours and mine, just yours. With that said, I have not seen Dave Chappelle's special, so I speak from a conceptual application of the freedom of speech. Unfortunately, censure has claimed many a victim of late, and the list continues to grow. As I understand it, he offended the LBGTQ+ community and some who identify outside the traditional realms of gender classification.
Gender classifications are the symptoms of a different offense restricting the autonomy to self-identify. But, freedom of speech and recognition of liberties have progressed this cause, and changes are enjoyed now despite having more terrain to travel. However, acceptance is growing, and assimilation seems to be the goal now, where these isolating distinctions are no longer considerations.
It should not be taboo to comment on or criticize any segment of society as an exempt group protected because it may have the opposite effect of the intended protections. It may generate resentment and prolonged acceptance. It must be judged by the content and context, not the manner. The content can be rejected, refuted, or evaluated. It is not what you say but how you say it. Likewise often it is not what you do but how you do it that is offensive.
Every segment of society is a member of multiple subgroups that don't raise condemnation when mentioned. Is it the level of acceptability at play instead of the content or context? Why can't others outside any subgroup not be allowed to speak as those within it think without offense being taken?
To continue these labels of sexual orientation, race, gender, or other categorizations, perpetuate distinctions and separation. It also psychologically impairs and exaggerates the differences when they should be of no significance. Without these identifiers, what distinctions can be made?
These outrages to references with expectations of exemption keeps it isolated from other subgroups. Why must all Americans have a secondary ethnic classification by ancestry? Even with religion, it helps with the divisions that have no practical bearings but separation or discrimination.
Not feeling what someone said is the price of freedom of speech since if any of us talk long enough, we are bound to rub someone the wrong way, even if by simply claiming our rights. Ironically, rights that others readily claim.
Theoretically, denial of others' freedom of speech diminishes yours by contrast and context. It is bound to restrict some subgroup that applies to you or yours. By context, content, and contrast, how damaging could Chappelle's words really have been compared to obstacles overcome in the past?
Because he spoke them, does that make them accurate or applicable to you as a group or individual? It would appear that feelings maybe were hurt, but how by someone who doesn't know you?
Perhaps, his comments relied on you including yourself in the disparage it implied for it to be offensive. Not to justify or make excuses for his words. That's left up to him. However, his right to say it is protected by his commitment to speak freely under his liberties.
I am sure he also spoke in ways that other subjective groups may have felt some kind of way about, which did not offend you. You may have even found it funny. It was a comedy show, and uncomfortable topics by definition and expectation should be anticipated. Talking about wives may have been offensive to wives, I don't know.
Suppose you or your subgroup found whatever comment offensive. In that case, that is fine, but expecting others who were not offended to be a force to uphold your offense is contrary to your goal of acceptance by comparison. However, if some would like to support your position voluntarily, that is fine too. If not, you have to be comfortable with that being your hill to climb.
The Kyrie Irving situation has a slightly different nuance regarding actions or, more specifically, inaction. Still, understandably, the temperature runs high when it comes to vaccination. Due to the loss of lives, risk of infection, and fear of contagion, as well as the complications and implications on vulnerable loved ones and family members, the concern is legitimate.
Despite these concerns, we must ask ourselves if our fears supersede his right of choice. Clearly stated is the ramification of his course of inaction. It may be governed by his conviction or even the color of his shirt; nevertheless, it is his choice and his right. He is far from alone in his resistance to the vaccine. He is also notoriously vilified based on the venue since a different location would produce no sanction.
If the sentiments against the unvaccinated are so high and crucial, why is it not mandatory or universally applied regardless of location? I doubt if freedom of choice is the reason for voluntary compliance. But seemingly because of politics, for and against, since many other vaccines and requirements are mandatory for the wellbeing of society or for participation.
Denial of participation seems fair to preserve freedom of choice. You absolutely can choose as you please, but that does not transcend the right to participate. Participation is a criterion of eligibility according to the requirements and standards set forth being met.
A driver's license to drive, a license for certain professions, and so forth operate under the same principle and acknowledgment of requirements to be met. By choosing not to comply, you also select not to participate but still maintain your right of refusal.
The vaccinated exercised our right just as he is exercising his. Still, the opposition is in his choice, which is different from ours. I cannot overstate that I am not an anti-vaxxer, just as I cannot understate that it is his right to choose as he pleases.
What he does for a living, the chance to win a championship, or the money forfeited as the driving persuasion to comply when pressured by others is not freedom of choice but external validation and compulsion by bounty. Yet, others may deem these considerations to be irresistible.
Still, is it not commendable that Irving stands in adversity unwavering against others' judgment about his right. Many may think it is selfish or foolish, and it may be both, but it's his consequences to shoulder. So, consider, can another's disappointment in your choices anoint them the captain of your ship and theirs.
As a contrary examination, what if he were in the majority and you were scorched for getting vaccinated? Would you let others' opinions sway you to go unvaccinated? Many claimed to have been forced, but you chose to concede unless you were tied and highjacked.
Anger from his failure to surrender where others have been compromised by their own declaration of concession still is not sufficient provocation for him to follow. Besides, you condemn yourself for lack of conviction if you truly oppose the vaccine but relented.
What other pressures or compliance are you susceptible to when avoiding discomforting consequences before it really gets thick? It seems Irving's refusal to knuckle under is the underlying issue with echos of how dare he? You chose your consequences of preference, him his.
Now let Irving confront his, least of which is being sidelined. The principled person would rather lose their head than their conviction, according to Socrates and Epictetus. So his dignity remains intact even if he decides to take the vaccine for reasons other than force.
Related to the subject of vaccines and choices is the abortion issue again. I am pro-life but pro-choice, understanding that it is not within my quarry to dictate the decisions regarding another's body and personal expectations.
It is absolutely not a deliberation I feel the authority to dictate as a man imposing my restrictions on women. Since a woman is a vessel by which birth is produced by the preponderance of the burden, contrasted by just sperm donation, these decisions should be left among them to decide.
I equate this question to the vaccine dilemma where choosing what you use your body to facilitate is your choice. How can an anti-vaxxer who is opposed to being dictated to what they must subject their body to manage to be anti-choice regarding abortion?
It is the same question in principle of supreme authority over your body. Weigh the shot against forced childbirth and child-rearing for life and tell me which one is more demanding, restrictive, and uncertain.
If the sanctity of your body is your right, how can theirs not be also? We are still talking about bodies that are capable of making decisions. Since the unborn child can not make the decision, the logic is it must be made to protect them. Protection then becomes the primary. So, should you be vaccinated to protect yourself and others, assuming the primary standard is protection?
The preserving element is choice, not the protection of controlling interest. If vaccinated, you still chose what you do with your body. Your body should be your choice and not others' selective protection or enforcement of this right, certainly not suppression of it. Furthermore, once these mandates are imposed and the child is born, where is the consistency of commitment.
What about the lack of adoptions, given the vast anti-abortion elements which could easily practice what they preach? Where is the assistance and relief by those who are comfortable with their situation unconcerned about the struggles forced upon someone else?
Imagine your nonexistent right to infringe and impose your will, then where is your real responsibility after getting your imposition? But, again, I am not advocating abortion, just choice. I am just questioning the discord between mandate, support, imposed determinations, and unintended consequences.
This leads me to intended consequences and unfiltered suggestions regarding sexuality. If anyone's sexuality is exclusively their business, then why are there so many public declarations and assumptions? If the desire is to make it commonly accepted, then it would seem that these distinctions and proclamations would be counterproductive, your orientation being nothing unusual.
The consensus is that it is immaterial to most except for who you are getting down? Considering the persecuted twentieth century, the relief and celebration welcoming alternative labels are understandable, but the choice is normal. Encouraging personal acceptance of your sexuality exiting the closet of concealment resisting exterior discriminations is the empowerment of courage despite depictions of others' intolerances.
The movement for acceptance and recognition of same-sex, alternative non-traditional options, and non-binary identifications reflects the progress made and recognition deserved as just as normal as any other identification. These varied influences need to be available for encouragement and bonding with its portrayal to release the taboo of concealment.
This courage can be promoted by not having undue challenges to undermine it. Allowing for the benefit of interpretation to distinguish many choices encourages freedom when making any choice. Whatever the decision, your preference should be supported if the same standard afforded others are used by you. Remember, the standard for choice is the primary element, not the selection.
But, to sincerely be commonplace, the distinction should not be uncommon or unusual, but just another accepted available option. Thus, a new day has dawned where a third rail of acceptance includes self-determining identities and sexualities without discredit. It is important that role models and identifiable reflections of the human spectrum represent a diversity of normalizations and their possibilities.
Of course, any subgroup of identification and beyond has its critics and unique characteristics. Still, one subgroup's influence is not more significant to the others, especially if not a member. To be different is not the right to impose on the other subgroups but to have freedom within your own and not be infringed on by others. The opposite must be observed as well.
Objective acceptance is the goal, not subjective compulsion. The freedom to choose from neutral influences of autonomy and acceptance without persecution, not judging or being subjected to judgment. The resistance is to oppose being classified and coerced into an unwanted classification not descriptive of your identity, right, or choice. Just respected, not as a sexual designation but as a human one.
It is a question of having an identity or actual choice which is unassailable even if outside others' preferences. Without undue influence or intolerances, unapologetically free to choose or be, having all options an equitable decision respected without criticism. Beyond acceptance, it is a demand for respect, respect for your identity.
Never above, never below, but always equal. I have carefully explained the distinctions of my perspective to contextualize that it is about freedom of expression, not the actual expression.
My point is the sexualization and promotion of all general subgroups of self-identification and sexual orientations seem to direct unfiltered influence on children at inappropriate ages. This portrayal has been traditional and untraditional.
Traditional breeds discrimination while untraditional invites shattering perceptions, but both produce resistance to change. Change is the fear from the expansion of definitions of conformity. It exposes the feat to let be and to be. Within this struggle is the portrayal of influence for survival and acceptance of subjective preferences. This includes music and media content, dress code, suggestive dancing, explicit language, and other reckless indulgences.
The sexuality and sexualization among adults should remain there and not be directed at or exposed to children intentionally or subliminally. Not subjected beyond the demonstration of their awareness or curiosities organically influenced from within themselves.
The sexualization of cartoons and comic books can be argued they demonstrate and support identity, not encourage particular dispositions. Still, there are residual consequences to that assumption, whose premise is if that should be their focus at such early ages. Age-appropriate behavior and exposure is the overriding concern and influence. I think we can agree that smoking, drinking, or porn is unquestionably inappropriate indulgences for small children and young teens.
However, what exposures are they otherwise permitted that are insidious and cloaked programming but just as harmful as to impressionable young psyches. It reduces the shock and heightens the chances of their involvement at ever-decreasing ages despite the laws and social propagation contrary to this expectation.
The concern is whether it does more good or damage from a child's perspective. The lesser evil must be chosen, which is not universal as awareness and development vary but generally apply. Remember, most early behavior is imitation and impersonation of exposures.
The orientation to any explicitly implied sexuality seems like early initiation into participation, trafficking, or exploitation. The same is true of the violence desensitizing mechanisms lessening self-control and making violent responses compelling default reactions without remorse, willful restraint, or consideration but conditioned.
Neuropathways indoctrinated by the constant bombardment of war games and violence-enhancing entertainment evokes responses to reality indistinguishably from games. This brainwashing produces aggressive, destructive tendencies. The hostility in our young people is according to their intentionally programmed code of violence and our historical demonstration. They respond largely as programmed or taught as the default from which other decisions are made.
The inducing proliferation of violent and sexual influences now appears to blur the lines of acceptable behavior by children and towards children. It is a thin line getting thinner whose violation and validation are routinely reinforced.
This can not lead to beneficial developments. Instead, it indicates an unfiltered stimulation of influences encouraging violent impulses, sexual misconceptions and disrespect, and propensity for danger-inducing behavior at younger ages.
The issues mentioned on the surface appear different but, at their core, are identical. These distinctions, designations, and classifications conditioned, coerced, and expressed are remnants of control for the division and quest for hierarchy, manipulation, and validation.
Elimination of these titles and characterizations of subversive origins would lessen the need to champion resistance against them or suppress others. As a result, some expressions or suppressions create exploitation of advantages while others vulnerabilities.
The assault is misdirected, manipulated, and subliminal. It seems the primary intent is the promotion of influences diminishing unregulated individuality, installing replication of perspective by either outrage, indoctrination, or association.
Opposite ends of the same spectrum ensnaring all within its survey producing predictable simulations for narrowing behaviors and socialization. Essentially defining and shrinking the parameters by the illusion of expansion camouflaging salacious inspirations and obstructions reducing liberties.
The flip side is there are acceptable constraints on freedom of speech and expression that should be observed and complied with whose regulations specify the manner and context of each. Don't yell fire in a crowded theater and other common-sense measures or forbidden outbursts. Thus, observance of general boundaries is recommended.
It should be balanced for the social good, no malicious intent, situationally appropriate, measured for harm, not incite violence or hate as its objective, and permit challenges. Direct and indirect implications must be considered. A dubious manner of delivery and awkward context should be contested but not content or choice. Content invites debate, discovery, understanding, and progress
These questions and perspectives risk offending the restrictive mind refusing to expand by exposure to concepts contrary to embedded perceptions. Similarly, new wine must be placed in a new pouch to accommodate its expansion. New perspectives expand the mind necessitating expanded capacity and tolerance, not to agree but to understand. These freedoms commented on extends vicariously to many other issues and applications of freedom and tolerances.
Protection of freedom of speech without censure, cancelation, or termination is fundamental to progress, acceptance of differences, and equality of diversity. These freedoms of speech, freedom to exercise well-established liberties, freedom from restrictions of choices by someone else's determination, and monitoring unfiltered influences need to be protected for future generations.
Be careful not to judge someone else's reality and expression by your own claiming to be just because from their perspective, the opposite may be just. Censor yourself first. What you seek to terminate today may be what protects you tomorrow. So, how about we leave the terminating to the science fiction movies.
Thurston K Atlas
Creating a Buzz